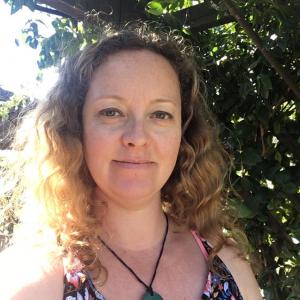 Mairi Lewis-Smith, PGDip Art Therapy, Bachelor of Visual Communication (Hons)
Kia ora, Mairi is a registered art therapist in NZ (ANZACATA) and Canada (CATA) located in Nelson with her own studio in the peaceful grounds of Founders Heritage Park. She graduated in 2014. 
Mairi works exclusively with children and adolescents 4-19yo who have mild to moderate mental health symptoms, and maybe presenting with challenging social-emotional behaviour and psychological needs. Mairi's experienced working with vulnerable and at risk clients and has worked in youth corrections and disability. She has worked with children for 10 years and currently works in schools, with local and government agencies, and private practice. 
Mairi draws from a client-led, strengths-based, solution-focused approach, with elements of play therapy, sand play therapy and narrative therapy. Art therapy combines psychotherapy, art making and counselling skills. This therapeutic approach can help people who enjoy art making who also have difficulty processing and/or articulating information.
Mairi is passionate about supporting local families in our community and is invested in the mental health and wellbeing of our younger generation. She offers a unique experience to facilitate healing, understanding, self awareness and personal development. Kia kaha.